About Cantick Head Lighthouse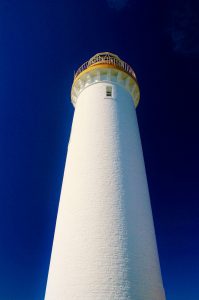 The Lighthouse
Cantick Head Lighthouse is an active 19th century lighthouse on the Scottish island of South Walls in the Orkney island. It is located at the end of Cantick Head, a long peninsula on the south-eastern coast of South Walls that overlooks the Pentland Firth and the Sound of Hoxa, which forms the southern entry to the natural harbour of Scapa Flow.
The light first entered service in 1858, and consists of a 22 metres (72 ft) high cylinder-shaped tower, which is painted white. It supports a single gallery and a lantern with a black cupola.
---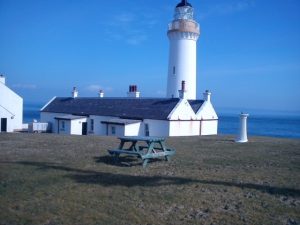 The Cottages
Adjacent to the tower are a set of keeper's cottages and subsidiary buildings, bounded by a walled compound containing a sundial. A principal keeper's house was a later addition. In 1913, a foghorn was installed at the station, which continued in use until 1987. In 1991 the light was converted to automatic operation, and the keeper's houses were sold and converted to holiday accommodation.
---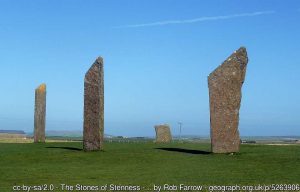 Local History And Landscape
The viewpoint outside the Lighthouse attracts locals and visitors alike, the sea and landscape views are reputed to be some of the best in Orkney. The ever changing sea is permanently framed by landscapes of Flotta, Switha, South Ronaldsay, Swona, Stroma and south to the unmistakeable outline of Duncansby Head and Scotland's northerly coastline.

Cantick Head Lighthouse, cottages, outbuildings and walls are Grade B listed of architectural and historic interest. The light is active and remotely operated by Northern Lighthouse Board from their Edinburgh office ~ the tower is not open to the public ~ the light celebrated its 150th anniversary on July 15 2008.

The Lighthouse and Lightkeeper's Cottages were designed and engineered in the 1850's by the Stevenson brothers David & Thomas, sons of engineer Robert Stevenson (1772-1850) (Hoy Orkney)
Among other attraction in the area is a Neolithic chambered cairn just 200 meters from the lighthouse.
---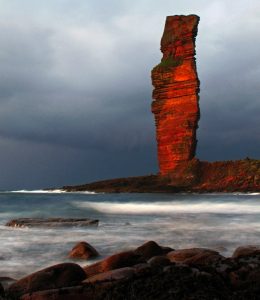 The Old Man Of Hoy
The Old Man of Hoy is a 449-foot (137m) sea stack on the island of Hoy, part of the Orkney archipelago off the north coast of Scotland. Formed from Old Red Sandstone, it is one of the tallest stacks in Britain. The Old Man is popular with climbers, and was first climbed in 1966. Created by the erosion of a cliff through hydraulic action some time after 1750, the stack is no more than a few hundred years old, and may soon collapse into the sea.
---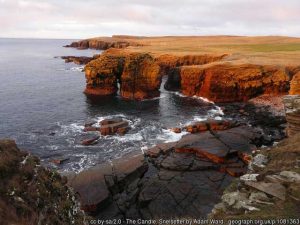 Hill of White Hamars
This Orkney reserve has impressive coastal features, including cliffs, numerous caves, natural arches, stacks and large blowholes. Narrow inlets provide excellent short-range viewing opportunities of cliff-nesting seabirds.
Reserve Leaflet
Reserve Map
Scottish Wildlife Trust website
---
Local Amenities
Information
Hoy Orkney islander & visitor information
The Islands Of Orkney – Information And Travel Guide
Shop 2 miles J M F Groat & Sons, next to the harbour in which Longhope lifeboat is moored. This shop seems to have everything – food, drink, newspapers, a Post Office.
Pub 2 miles
Restaurants 1-10 miles
Doctor 2 miles
Museum 2-10 miles
Scapa Flow Visitor Centre and Museum
Longhope Lifeboat Museum
Hackness Martello Tower
Ice Cream Parlour 5 miles
Emily's Ice Cream Parlour